Meet Our Team – Dyer, IN
The Ones Bringing Life
to Our Dental Office
A family-friendly dental office that's dedicated to providing comprehensive care requires many things, but one of the most important elements is a team of experienced, caring individuals that make sure every moment of every patient's visit is defined by great customer service. You can get to know them a little better ahead of time by reading below. They can't wait to meet you in person!
Kathleen Hayes,
LDH, Business Coordinator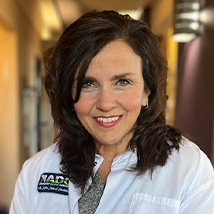 Kathleen (who goes by Kathy among her friends) is Dr. Hayes's wife and the Business Manager for Advanced Dental Concepts. In fact, she has actively participated in the dental office since 2004, when our doors first opened. She earned a Licensed Dental Hygienist degree from Indiana University in 1991. She always loves talking and getting to know our various patients; she considers the relationships that she's built up at our dental office over the last several years to be both meaningful and fulfilling.
When Kathy is at home, she enjoys spending quality time with Patrick, Daniel, and Riley, her three lovely children. Nothing is more important to her than her family.
Monica,
Regional Manager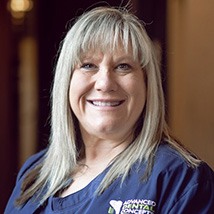 Monica comes from DeMotte. She first joined our staff in 2013, but she has worked in the dental field for more than 25 years. She went to the Indiana University Northwest School of Dentistry, and she has been licensed in dental radiography. She has worked as a dental assistant in the past, and she always enjoys the opportunity to interact with new and returning patients.
Monica, along with her husband Dave, has two wonderful children, Taylor and Tristan. In addition to spending time with them, she likes to take photographs and travel around.
Kamari, Team Lead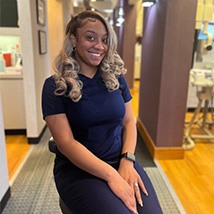 A Merrillville native, Kamari joined our team in 2023 and has already made a profound impact on how we care for patients! Nothing brings her more joy than knowing she was able to make a patient feel better about their oral health.
When she isn't working, Kamari enjoys spending time with her family and traveling whenever she gets the chance. She also loves reading and working out—you might often find her swimming or even rollerblading!
Brandon,
Expanded Functions Dental Assistant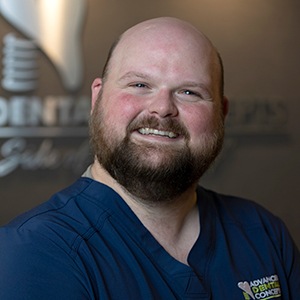 Brandon has been in dentistry for about 8 years, 4 of which have been spent at our dental office. Nothing makes him happier than helping a patient feel good about their smile. He received his initial dental training at Everest College and obtained his certifications in EFDA and dental radiology shortly afterward.
Brandon grew up in a military family that moved around a lot, so he was actually born in Germany. These days, he likes to spend his free time traveling, camping, going on hikes, or just hanging out with his husband Chris and their cat, Mugsy.
Sally, Expanded Functions Dental Assistant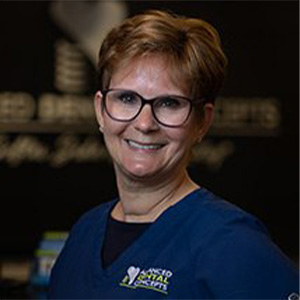 Sally has worked in the dental field since 1974, and she has loved every minute of it. She is passionate about working with great people and helping patients look and feel their best. Sally is certified as an expanded functions dental assistant and she is x-ray certified. Originally from Crown Point, Sally is married to Bill, and the couple have two adult daughters, Sarah and Beth and four grandchildren Emma, Eli, Jack, and Ollie. Bill is a pastor and Sally enjoys participating in church functions in her spare time. She also loves spending time
Crystal, Expanded Functions Dental Assistant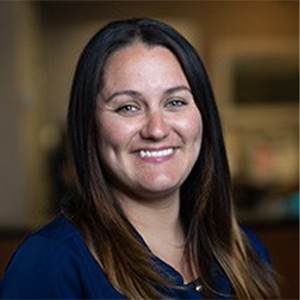 Crystal has been working in dentistry for over a decade now. Originally from the Hammond area, she studied assisting at Everest College. She looks forward to helping our patients smile brighter.
Outside of work, Crystal has a growing family that includes five kids. Her favorite hobbies include fishing, camping, drawing, doing various arts and crafts, and (of course) spending quality time with her loved ones. She also loves karaoke – in fact, she used to sing in a band!
Brenda, Front Desk Administrator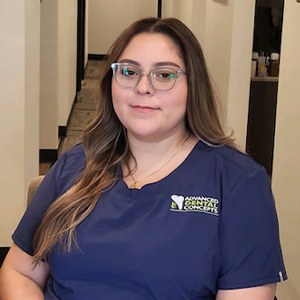 Brenda will probably be the first friendly face you see when you step into our practice. She's always eager to help new patients feel right at home as well as catch up with returning ones. She grew up in Munster and currently lives in Griffith with her husband, Tom, and their dog, Luna. All of her hobbies revolve around being creative, as she likes to do arts and crafts, crochet, paint, and renovate and design spaces.
Natalie, Dental Hygienist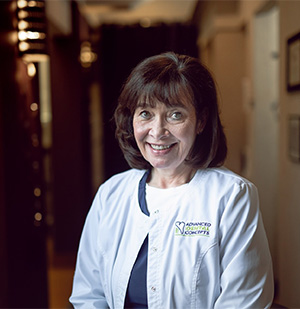 Natalie has been working in the world of dentistry since 1983! To this day, she loves having the opportunity to genuinely help patients. An Indiana native, she chose to complete her studies at Indiana University, and she is an EFDA.
Natalie's life outside the office is busy as well! In addition to being a piano teacher, she likes to golf, garden, hike, listen to music, and go to the beach. Here's a fun fact about her: she recorded a piano album in 2016 called "Out Here on My Own."