Dental Patient Information – Dyer, IN
What All Our Patients
Need to Know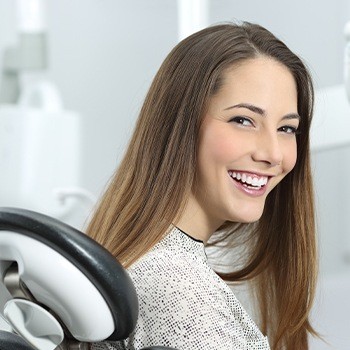 Each and every person who visits Advanced Dental Concepts is considered a member of our oral healthcare family, and we want to make sure that our family is able to enjoy their experience at our dental office from the very start. Below is a brief list of information that we want you to know before the day of your appointment as well as certain steps that you'll want to take beforehand. If there's anything you don't understand, let our friendly and experienced dental team know by calling our Dyer location. We're ready to go beyond your expectations for oral health.
Your First Visit
The first thing you'll see upon walking through the doors of Advanced Dental Concepts is a friendly smile courtesy of our front desk team. At the first appointment, you'll be given a brief tour to help you become familiar with our dental office. If you have not completed all of the paperwork that we need, it will be given to you at this time. You'll be called back to the operatory area, where X-rays and a photo of your mouth will be taken. Then one of our dentists will thoroughly examine your mouth and figure out if there are any potential oral health issues that you need to be aware of. We always take all the time we need with each patient; it's important for us to get to know you, after all. If we determine that you need some sort of dental treatment, your options will be thoroughly explained to you so that you can give your own input on how you think your care should proceed. Future appointments will be scheduled based on your current needs. At the end of your visit, your financial obligations will be laid out clearly, and we'll happily answer any questions you have so as to protect you from unpleasant surprises later on.
New Patient Forms
The information that you provide on your new patient forms lets us know about your dental and medical history as well as any specific concerns that might have brought you to our dental office. Completing these forms at home can be a real time-saver on the day of your appointment, so go ahead and print them out using the link below.
Download Our Forms – Coming Soon
Share A Smile Referral Program
Having people referred to us gives our team members a wonderful feeling knowing how much our patients love the care we have to offer. When you refer someone to us and they come in for a visit, you will both receive $25 in credit that can be applied to any of our dental services. And there's no limit to the number of referrals you can make, meaning you can potentially save a lot of money on care by helping your friends and family find a new dental home.
Download Our Brochure - coming soon
Manage Your Account Online
We give all of our patients an online account through which they can schedule future appointments and pay their bills at their own convenience. Let us know if you can't log into your account; one of our team members will make sure that you have access to this convenient and helpful resource.
Login to Your Account – Coming Soon
We Will Take Your Dental Insurance
Dental insurance is a great way to cut down the costs of your care, but it can be confusing to try and navigate, and you may not be confident that you're getting all of the savings that you deserve. It's a good thing, then, that you have our team at Advanced Dental Concepts to help you! We are willing to file claims for any of the major PPO insurance plans. And don't worry about paperwork; we handle the entire process ourselves in order to simplify the reimbursement process. Bring your policy information with you to your appointment so that we can confirm that we can take the coverage you have.
In network with:
No-Stress CareCredit Financing
You'll be asked to pay for the out-of-pocket portion of your care at the time of service. Cash, checks, and all major credit cards are accepted. However, if you're unable to pay the entire cost of care up front, you can apply for a CareCredit plan in order to break it into monthly installments instead. There is very little interest attached to CareCredit plans, and they come in various lengths depending on your budget. Click the link below to fill out an application.
Our Advanced Dental Wellness Plan
Do you not have a dental insurance plan of your own? Then consider signing up for our Advanced Dental Wellness Plan instead! You won't have to file any claims, meet deductibles, or worry about premiums; you just pay a yearly fee and in exchange enjoy free preventive care along with discounts on most of our services.