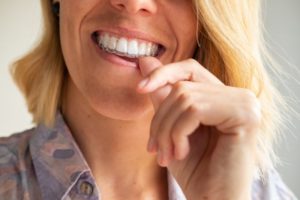 At this time of the year, it's easy to put things off. "I'll take care of it after New Years" or, "It can wait until after the holidays," are phrases almost everyone has used. For people who are interested in straightening their teeth, beginning in January may sound like the right move, but it actually isn't! By beginning Invisalign now, you can start your journey toward your dream smile without delay, plus this may help you save money at the same time. Here are three reasons why you should start Invisalign in 2022.
1. It Won't Interfere with the Holidays
One of the biggest benefits of choosing Invisalign over traditional metal braces is that it is extremely discreet. This means you'll be able to attend various parties and meet with friends and family without feeling self-conscious. And, when people start inevitably taking pictures, you won't have to think twice about smiling. Plus, you can take the aligners out whenever you want, meaning you can enjoy all of your holiday favorites.
2. Start Now and End Sooner
This one is simple—the sooner you start Invisalign, the sooner you'll be able to enjoy your final result. Why wait a month or two when you can get the process kicked off right now? By the time most people get Invisalign, they've wanted to do something about their teeth for years. Why not give yourself peace of mind and begin the process now? Your only regret will be that you waited!
3. Take Advantage of Your Insurance
Most dental insurance plans reset their benefits at the beginning of the year. That means if you have any coverage left on your policy, it will simply disappear come January 1st. And, you'll have to pay your deductible again to gain access to your savings.
Instead, you can get Invisalign now and take advantage of your 2022 coverage. Otherwise, that money will just go straight back to the insurance company, and they don't need it! Just make sure that your plan covers clear aligner orthodontics before committing to treatment—you can ask your friendly dental team to confirm this!
While the end of the year is busy, starting Invisalign is a relatively fast process. You just have to visit a dentist once for an evaluation, and then you'll receive your first set of aligners soon after. Not waiting will enable you to achieve your dream smile much sooner, and there is also a good chance that you'll save money at the same time!
About the Practice
Advanced Dental Concepts is based in Dyer and led by four experienced dentists. Our practice offers comprehensive dental care in a convenient location. In other words, we can provide preventive, restorative, and cosmetic services, including Invisalign. We can help you get started with Invisalign right away so you can take advantage of your remaining 2022 insurance coverage—all you need to do is click here to schedule an appointment.