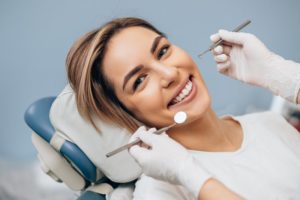 With many things in life, it's best to tend to an issue before it gets too out of hand. If your "check engine" light comes on in your car, you want to get it checked out before the problem becomes worse. The same goes for your smile. When it comes to your oral health, prevention is key. If you take the time to attend your six-month dental checkups, you can stop major problems in their tracks before they cost you more time, money, and well-being! Read on to learn five important reasons why early detection of oral health issues is so vital.
Reason #1: Your Dentist Can Closely Monitor Your Oral Health
While your daily oral health routines, such as brushing and flossing, are essential in keeping your smile healthy, that's only half the battle. Your dentist can identify any underlying issues that you may not be aware of. They can monitor your dental health over time, detect any problems, and provide any necessary treatment to keep your grin on a positive track.
Reason #2: You Will Save Money & Time
Do you ever avoid going to the dentist because it's tough to fit it into your schedule? Or maybe you do it to also save a few bucks? Unfortunately, a lack of early prevention can cost you more time and money in the long run. If an oral health issue goes unchecked, you could possibly have to need expensive dental care, like tooth extractions and restorative procedures. It's best to get your oral health checked out while there are no major issues.
Reason #3: You'll Learn About the Best Dental Hygiene Practices
In the midst of life's busyness, it can sometimes be overwhelming to also search for the best ways to care for your teeth and gums. With so many oral hygiene products on the market, it can be tough to figure out which ones are best suited for your needs. Your dental team can prescribe professional products that can address your particular needs dental needs. Additionally, they also guide you on how to implement the best practices for caring for your pearly whites and gums.
Reason #4: Your Social Life Will Improve
Sometimes oral health problems pop up that can be embarrassing, like bad breath or discolored teeth. And no matter how hard you try to fix the problem, they still occur. The good news is that your dentist can help you get to the root of your oral issue and provide solutions so your smile can be fresh and beautiful!
Reason #5: You Can Avoid Serious Health Issues
Many studies have proven that your oral health is connected to your physical health. Poor dental health can cause a variety of health issues, including strokes and heart attacks. By visiting your dentist for your biannual checkups, they can help prevent and treat any conditions before they begin to impact your overall well-being.
About the Practice
Advanced Dental Concepts is eager to help you keep your smile whole, healthy, and beautiful through the expertise of its team of dentists. They offer a full range of comprehensive dentistry all under one roof, including preventive care. With the use of personalized plans and advanced dental technology, they can assist in the early detection of early oral health issues and help you achieve any of your smile goals! To schedule an appointment, contact them through their website or call (219) 322-3418.